Ulamog, the Ceaseless Hunger: An "I Win" Button (Almost)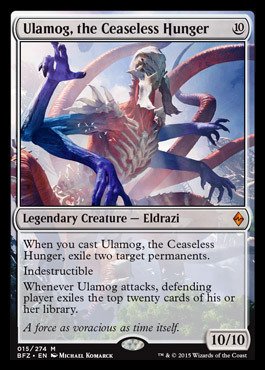 Ulamog, the Ceaseless Hunger is a 10/10 Indestructible Legendary Creature.  As soon as you cast it, you get to exile 2 target permanents even if it's countered!  And the best part?  Every time you attack with it, your defending opponent has exile the top 20 cards of his/her library.
Watch Ulamog, the Ceaseless Hunger in Action
Example Combo
Assuming you're not down to your last lives or cards, it's very difficult for your opponent to win once you have Ulamog out unless he/she can exile it or return it to your hand.  You'll want to finish your opponent off quickly at this point and that can be done with either Berserk (if you're playing Green) or Temur Battle Rage (if you're playing Red) to enable it to deal 20 points of damage and gain trample in the process.
If you don't wish to spend the 10 mana needed to cast this creature, you can get some help using Ugin, Aether Vial, or Show and Tell but keep in mind you won't be able to exile 2 permanents along the way since you're technically not casting it.
Final Thoughts
Getting the mana to cast Ulamog can be difficult but once you've made it that far, victory is likely very near for you.  To learn more about Ulamog, the Ceaseless Hunger, please follow the button below to Amazon.com!