Ruinous Path: Destroy the Living to Animate the Nonliving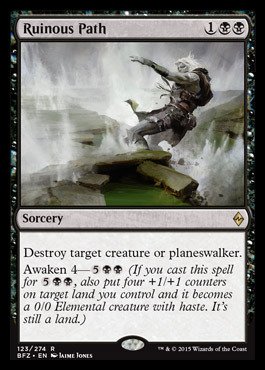 Ruinous Path is a Black Sorcery that'll destroy a creature or planeswalker.  If you cast it for its Awaken cost, you can put 4 +1/+1 counters on a land and turn it into a creature with haste.
Watch Ruinous Path in Action
Example Combo
It'll take quite a bit of mana to pull off but if you're also playing Red, consider casting Temur Battle Rage on the land that you targeted with the Awaken option of this spell.  That way, you'll be destroying a creature/planeswalker AND dealing up to 8 damage to your opponent (if your new land elemental creature with 4/4, trample, and double strike isn't blocked.)  Sure, you can also deal 8 damage to your opponent by casting a Disintegrate for 9 mana but you'll miss the fun of destroying a creature in the process.
Final Thoughts
Since there are many black spells that can destroy troublesome creatures at only a mana cost of 2, the main selling point of this card is the ability to also destroy planeswalkers at a mana cost of 3 AND be able to awaken a land if you pay even more mana.  To learn more about Ruinous Path, please follow the button below to be taken to Amazon.com.