Ensoul Artifact: Power to the Colorless!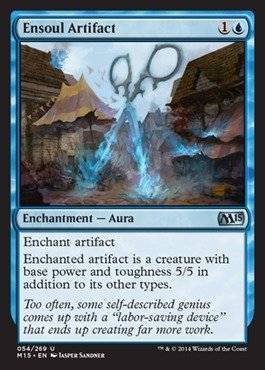 Ensoul Artifact is an Enchantment that'll turn any artifact into a 5/5 creature.  Since it only costs 2 total mana, you can make a 5/5 creature very early in the game if you have an artifact with a low mana cost in play.
Watch Ensoul Artifact in Action
Example: Infinite Combo
In addition to Ensoul Artifact, you'll need the following cards:
Play Myr Turbine and Intruder Alarm then put Ensoul Artifact on Myr Turbine.  Now every time you tap Myr Turbine to create a 1/1 Token Myr creature, you'll get to untap the Turbine right away which means you can create an unlimited # of 1/1 Tokens that turn.  While this won't guarantee an instant win, your opponent will be hard pressed with very limited options for not losing going forward from this point on (unless he's lucky enough to have a Wrath of God on hand.)
Final Thoughts
If you have a Blue deck that's full of low mana cost artifacts, then this card would be a perfect fit!  To find out more, please come to Amazon.com by clicking the button below!