Abzan Charm: 3 Colors for a Choice of 3 Outcomes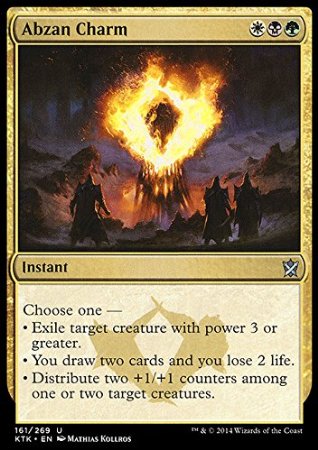 Abzan Charm is a White, Black, and Green Instant that lets the caster pick the effect upon casting it:
Exile a creature with power >= 3
Draw 2 cards and lose 2 life.
Put 2 +1/+1 counters on 1 or 2 creatures.
Watch Abzan Charm in Action
Final Thoughts
While none of the individual choices are anything to write home about (i.e. you can do the 2nd one with Sign in Blood, a common Black Card), the flexibility and versatility of this card makes up for it.  For example, it's a bit frustrating to have several spells specifically for destroying creatures in your hand when your opponent has no creatures in play but Abzan offers you an menu of options rather than being stuck in a single function like most other spells.  To learn more about this card, please follow the link below to Amazon.com!