Bloodsoaked Champion: Stubbornly Defying Death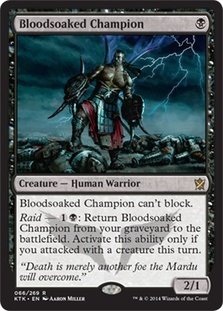 Bloodsoaked Champion is a 2/1 Black Creature that costs only 1 mana but cannot block.  After it dies, you can return it back into play by attacking that turn and then paying (1)(B).
Watch Bloodsoaked Champion in Action
Example Combo
Since these guys are easy to resurrect, you'll want to use them to get a head start after you've destroyed all creatures using a Day of Judgement or Nevinyrral's Disk.  Make sure you have another creature in your hand that you can play immediately after destroying all creatures since the resurrection ability requires that you attack with a creature first.
Final Thoughts
They're not that powerful to be honest.  But for only 1 mana, these guys sure are persistent buggers.  To learn more about Bloodsoaked Champion, please follow the button below to be taken to Amazon.com!