Mantis Rider: Cheap Tri Colored Flyer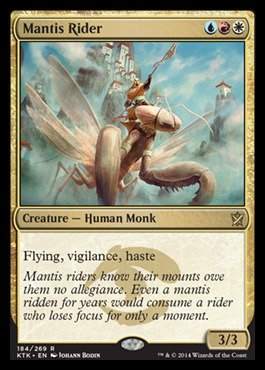 Mantis Rider is a 3/3 Flying creature with Vigilance and Haste and costs only 3 mana but of 3 different colors: Red, White, and Blue.
Watch Mantis Rider in Action
Final Thoughts
If getting the different types of mana to cast this isn't going to be a problem, then it's a very highly efficient creature that you could cast super early in the game.  Having a 3/3 flyer that doesn't tap when attacking and thus can help you on defense while it deals damage to your opponent by turn 3 is just too powerful to pass up!  To learn more, please follow the button below to Amazon.com!