Crackling Doom: Bad News Keeps Getting Worse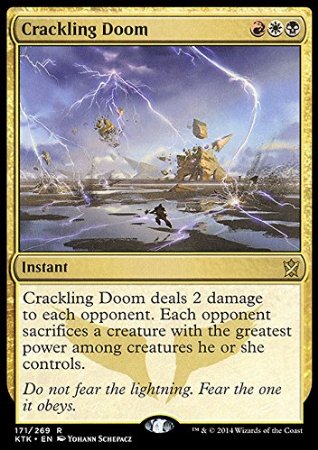 Crackling Doom is a Red, White, and Black Instant that deals 2 damage to each opponent and then each opponent must also sacrifice a creature with the highest power among the ones he/she controls.
Watch Crackling Doom in Action
Final Thoughts
The mana cost may be a bit difficult to muster up but it's an excellent card if you're playing against multiple opponents.  Too bad it doesn't share any colors with Siege Rhino which also targets multiple opponents for damage, but if you have Green as a 4th color, you might want to include it in your deck for playing against multiple foes.  If you'd much rather stick to the main colors of Crackling Doom, maybe consider adding Liliana's Spectre which forces each opponent to discard a card.  To learn more about this card, please follow the button below to Amazon.com!