Ancestral Recall: Make Anyone Draw 3 Cards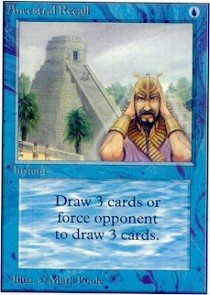 Ancestral Recall is a simple Blue Instant that costs only 1 mana and can force yourself or an opponent to draw 3 cards.
Watch Ancestral Recall in Action
Example Combo
You can do some serious damage milling your opponent with this combo, which will also require the following cards:
You'll want to use Traumatize on a previous turn (to reduce their library in half) as well as put the Grand Master and Tutelage in play since this combo can be pretty mana intensive.  Once you're ready, activate the Grand Master's ability which sends your Instants back to your hand whenever you cast them.  Next, use your remaining Blue mana to cast and recast Ancestral Recall on yourself, drawing 3 cards each time.  Every time you draw a card, your opponent is forced to mill away at least 2 cards from his/her library.  If he/she is playing a single colored deck, this can have very devastating consequences.  Even if you don't win this turn, you'll be on your way soon in another turn or two.
Final Thoughts
Few cards in the MTG universe will allow you to draw this many cards for so little mana.  To learn more about this card, please follow the link below to be taken to Amazon.com!