Soulfire Grand Master: Life Link for Instant Sorceries!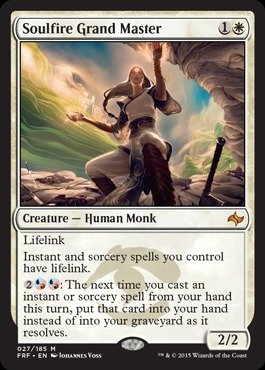 Soulfire Grand Master is a 2/2 White Creature with Lifelink that also grants Lifelink to all Instant and Sorcery spells that you cast.  If you pay 4 mana, 2 of which must be Blue or Red, then the next time you cast an instant or sorcery, it goes back into your hand instead of the graveyard.  Obviously, you won't be able to easily play this in a pure White deck but if you also have Blue and/or Red mana, then the 2nd ability of reusing your instants and sorceries can be extremely helpful.  It also makes an excellent addition in Red decks that use a lot of direct damage spells like Lightning Bolts, Disintegrates, etc. since you'll end up gaining life every time you deal damage, thanks to its Lifelink.
Watch the Soulfire Grand Master in Action
Example Combo: Infinite Turns
If you have Time Walk and at least 6 mana of the right types available, you'll be able to essentially take infinite turns.  Once Soulfire Grand Master is in play and Time Walk is in your hand, use the Grand Master's activated ability and cast Time Walk.  You'll get an extra turn after this one, so rinse and repeat for essentially infinite turns.  Now, you're gonna need more than 6 mana available to be able to do something useful other than take extra turns indefinitely but I recommend you start this combo as soon as you have the 6 mana and these requisite card available; you'll likely end up drawing additional lands which you can use to cast additional spells while sparing the 6 mana to keep this combo going.  Keep taking as many turns as you like until you manage to kill off all of your opponents!
There's even a Deck on TCGPlayer that takes advantage of this combo!
My Thoughts
The activated ability is a bit expensive but it opens the door to many possible combos.  Because of this, it's one of my favorite cards and is EXTREMELY useful in the Vintage format if you're playing various Restricted instants and sorceries.  In addition to Time Walk, another card that goes really well with the Grand Master is Demonic Tutor: you'll be able to draw all the cards you need from your deck as you reuse your tutor.
To learn more about this card, please click through to Amazon.com by following the button below!