Jeskai Ascendancy: Do you cast non-creature spells frequently?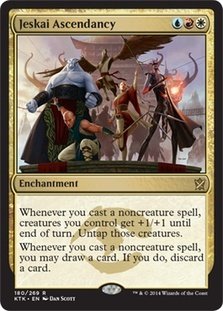 Jeskai Ascendancy is a multicolored (Blue, Red, and White) Enchantment that activates every time you cast a noncreature spell.  These abilities include:
All of your creatures get +1/+1 until end of turn and become untapped.
You may choose to draw a card.  If so, you'll need to also discard a card.
If you cast multiple non-creature spells, your creatures get multiple +1/+1's.
Watch Jeskai Ascendancy in Action
Combo Example: Give your creatures +
∞

/+

∞

When you cast Elite Arcanist, exile Manamorphose from your hand.  Now you can pay 2 mana tap the Elite Arcanist add 2 mana to your mana pool.  Nothing impressive, but since the Elite Arcanist's activated ability counts as an instant, Jeskai Ascendancy's ability gets activated which gives all creatures +1/+1 and untaps all of your creatures.  You now have an infinite combo capable of giving all of your creatures +∞/+∞!
Final Thoughts
This enchantment is a bit difficult to cast due to its tri-color casting cost but if you're playing a Blue, Red, and White deck, definitely consider it especially if you're able to put a ton of token creatures into play.  To learn more about Jeskai Ascendancy, please follow through to Amazon.com by clicking through the button below!