Rakshasa Deathdealer: The Cat Demon that Refuses to Die!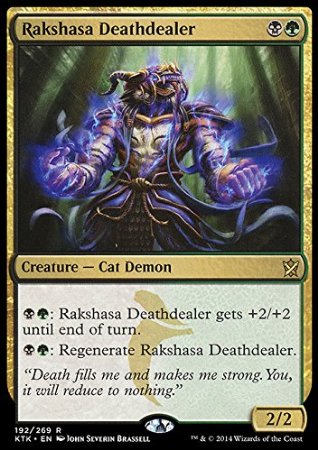 Rakshasa Deathdealer is a 2/2 Black and Green creature that can be regenerated and pumped up for +2/+2 at a time, both by spending 1 Black and 1 Green mana.  If your opponent is playing Red, it's advised that you have enough mana to regenerate this creature before casting it.  Don't let a shock or lightning bolt put an end to what would be a stubborn and potentially powerful creature later in the game!
Watch Rakshasa Deathdealer in Action
Final Thoughts
For only 2 mana, this inflatable creature with regenerate is quite a beast if you have Green and Black mana in your deck.  To learn more, please follow the button below and you'll be taken to Amazon.com!