Fleecemane Lion: King of the Jungle When Monstrous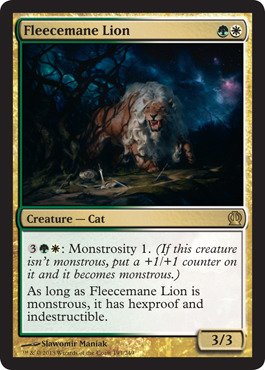 Fleecemane Lion is a 3/3 Green and White creature that costs only 2 total mana.  If you pay (3)(G)(U), you can make it 4/4, monstrous, and indestructible.
Watch Fleecemane Lion in Action
If you don't have the mana to make your lion Monstrous right away, try to have some spell on hand that'll protect it in case your opponent targets it for destruction.  For example, I happened to have a spell that gave it +2/+2 right after my opponent tried to deal 4 damage to it.

So Your Opponent Has an Indestructible and Hexproof Lion.  What can you do now?
If your opponent made his/her Fleecemane Lion Monstrous, hence indestructible and hexproof, there are still some ways to destroy it.  Keep in mind hexproof only prevents you from casting spells that directly target the Lion.  And indestructible creatures can still be exiled, returned to their owners' hands, sacrificed by force, or destroyed by giving it -X/-Y where Y is greater than its toughness.  Some spells that can you can use at this point include:
Final Thoughts
Although not completely invincible, Fleecemane Lion can be extremely annoying and difficult for an opponent to remove.  To learn more about this card, just head over to Amazon.com by following the button below!