Chord of Calling: Put Any Creature From Your Library Into Play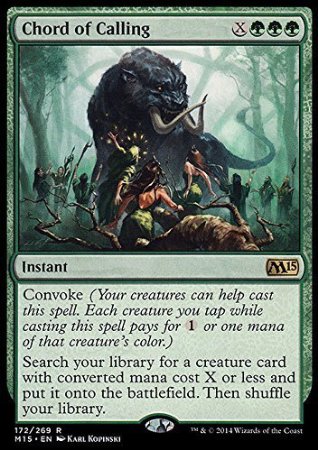 Chord of Calling is an Instant costing (X)(G)(G)(G) which allows you to search your library for any creature with mana cost X or less and put it directly into play.  Best of all, it has Convoke which allows you to tap your own creatures to reduce its mana cost; tapping a green creature lets you "pay" for either one of the Greens or one of the X's while tapping a non-green creature lets you pay 1 of the X colorless mana.
 Watch Chord of Calling in Action
Great for Casting Those 5-Colored Creatures!
Chord of Calling lets you cast 5-colored creatures like Sliver Legion and Chromanticore without having to scrimp together all 5 different mana types.  Yes, it's still gonna take a ton of mana but it's easier than finding the right combination of lands and mana sources needed to manually cast them.
Final Thoughts
If you're not using Tutors because A) you're not playing Black or B) you're not playing Vintage, then you can still search your library for a creature to put into play thanks to Chord of Calling.  To learn more about this card, just come over to Amazon.com by following the button below!