Chromanticore: 5 Colors But Sooo Worth It!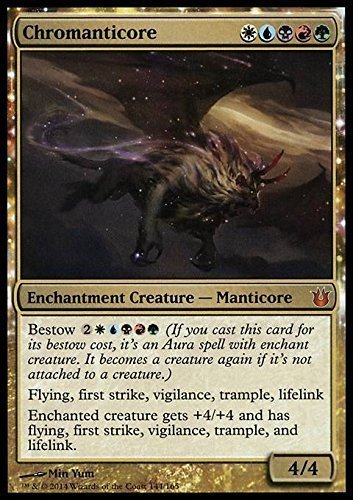 Chromanticore is a 4/4 Enchantment Creature with Flying, First Strike, Vigilance, Trample, and Lifelink which costs all 5 colors of mana to cast.  If you double its casting cost, you'll be able to cast it as an Enchant Creature and give a target creature +4/+4 and the aforementioned abilities.
Watch Chromanticore in Action
Example Combo
Finding the 5 different types of mana to cast Chromanticore can be a daunting task.  But there are a couple of cards that'll make the endeavor much easier.
#1: Show and Tell
Show and Tell, a Blue sorcery, will let you put a permanent directly into play without paying the casting cost (but so can your opponents at the same time.)
#2: Pulse of Llanowar
Pulse of Llanowar, a green Enchantment, will let all of your lands produce all 5 mana types.
Final Thoughts
This is a very powerful creature (and enchantment) if you're able to produce all 5 mana types in your deck or find some other way to cast it.  To learn more whether Chromanticore is a good fit for your deck, please head over to Amazon.com by following the button below!