Collected Company: Reinforcements From Your Library!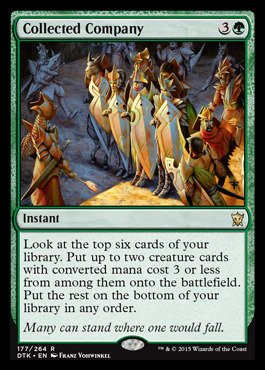 Collected Company is a green instant that lets you put up to 2 creatures with a casting cost of 3 or less directly into play.  The rest of the cards that you looked at but didn't draw will go into your graveyard.  If you have a lot of creatures that cost exactly 3 mana, then it's a very mana efficient way to play creatures (since it'll save you 2 mana in the process.)  Since this card can potentially put some of your most valuable cards at the bottom (as a side effect), you may want to include some green cards with the ability to reshuffle your library in the deck.
Watch Collected Company in Action
Final Thoughts
This can be a very powerful card but only in very specific situations.  If you have a deck with a ton of creatures with a casting cost of 3, then Collected Company can help you save on mana in addition to bringing out more creatures faster.  If many of your creatures have higher casting costs or even casting costs of 1 or 2, then the 4 mana you spend on Collected Company may not be worth it.  If you think this card is a great fit for your deck, please come to Amazon.com to learn more by clicking the button below!