Kolaghan's Command: Choose 2 of the Following 4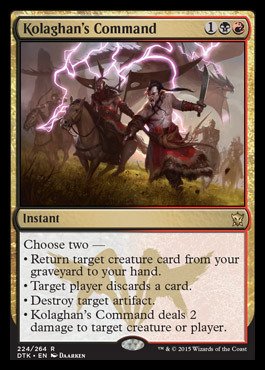 Kolaghan's Command is a Black and Red Instant that offers you to pick 2 of the following 4 effects:
Return a creature from your graveyard to your hand.
Target player chooses a card and discards it from his/her hand.
Destroy an artifact.
Deal 2 damage to target creature or player.
Watch Kolaghan's Command in Action
Final Thoughts
This card offers great versatility since it gives you a choice of 2 of the 4 effects.  While none of the effects are particularly earth shattering by themselves, it's very convenient to be able to pick and choose flexibly depending on your situation in a particular game.  To learn more, please come to Amazon.com by following the button below!