Dromoka's Command: Choose 2 of the Following 4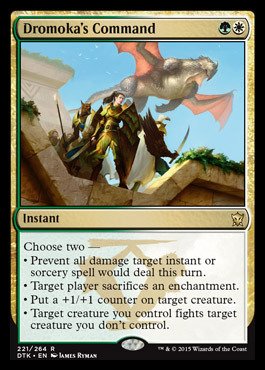 Dromoka's Command is a Green–White Instant which lets you choose from 2 of the 4 possible effects:
Prevent all damage that a target sorcery or instant spell will deal this turn.
Target player sacrifices an enchantment
Place a +1/+1 counter on a creature.
Target creature you control fights a creature you don't control.
Watch Dromoka's Command in Action
Final Thoughts
The flexibility offered by this card is awesome assuming you have the green and white mana needed to cast it.  My favorite ability of the bunch is the one where your creature fights a creature you don't control, preferably one of your opponents'.  Since green tends to have creatures with massive power and toughness like Scaled Wurm, it's a great way to get rid of less powerful creatures with annoying abilities that your opponent controls.  If Dromoka's Command is a great fit for your deck, please check it out at Amazon.com by following the button below!