Exquisite Firecraft: 4 Damage that sometimes can't be countered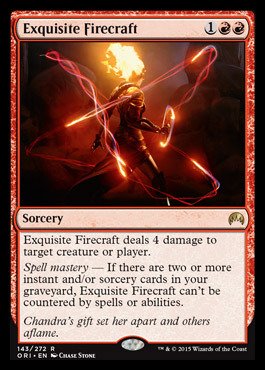 Exquisite Firecraft is a Red Sorcery that deals 4 damage to a creature or player.  If you have 2 or more instants and/or sorceries in your graveyard, then this spell can't be countered.
Watch Exquisite Firecraft in Action
Final Thoughts
A lightning bolt, IMO, is far more mana efficient and can be cast during any turn, dealing 3 damage for 1 mana.  You should have 4 lightning bolts in any decks before considering this.  But if you're playing against a Blue deck that's choke full of counterspells and their related cousins, you may need to rely on the Spell Mastery ability of this spell to start dealing some damage to your opponent or his/her creatures.  To learn more about Exquisite Firecraft, please follow the button below and you'll be taken to Amazon.com!