Abrupt Decay: Destroy a Permanent with Low Mana Cost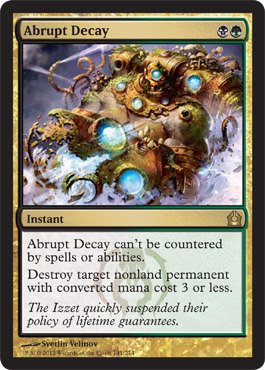 Abrupt Decay is a Black and Green Instant that can destroy any non-land permanent with a casting cost of 3 or less.  Plus, on top of that, it also can't be countered!
Watch Abrupt Decay in Action
Final Thoughts
Instead of targeting specific card types to destroy like Ruinous Path (Creatures or Planeswalkers) or Disenchant (Artifacts or Enchantments), Abrupt Decay targets all non-land permanents that cost 3 or less mana.  This makes it very powerful early in the game before your opponent is able to play his more powerful permanents.  Consider adding it to your sideboard if your Black and Green deck is particularly vulnerable to Weenies.  To learn more about this card, please follow the button below to Amazon.com!