Nimbus Maze: Got Blue but Need White? Or Vice Versa?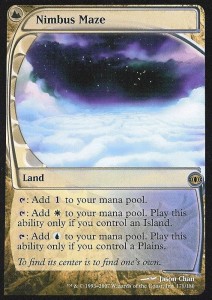 Tired of drawing Islands when you need White mana or only getting Plains when you need Blue mana?  Then you'll want Nimbus Maze in your deck to make your deck more robust and less prone to being mana screwed!  Nimbus Maze will produce White mana if you have an Island in play and Blue mana if you have a Plains in play.  If you have neither basic land in play, it'll only produce colorless mana.  If Tundras are illegal in the format you're playing (or you already have 4 of them), this dual land can reasonably take its place.
Watch Nimbus Maze in Action
The Verdict?
This is one of the better Dual Lands since it doesn't too many strings attached.  It doesn't come into play tapped or deal damage to you when used for mana (*cough* Azorius Guildgate *cough* Adarkar Wastes.)  This works quite well if most of the lands in your Blue-White deck are basic lands (or count as either Islands or Plains like the Tundra.)  As long as you have either an Island or Plains plus Nimbus Maze in play, you'll be able to easily produce both Blue AND White mana.
For more info, please head over to Amazon.com by following the button below!