Jade Monolith: Redirect Damage from any Creature to YOU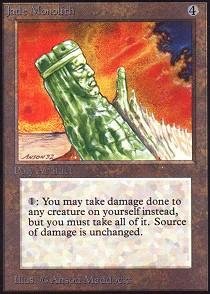 Jade Monolith lets you redirect the damage done to any of your creatures to yourself instead.  If you're playing against a Red aggro deck, this card will be indispensable in protecting your key creatures.  In that case, if you also have a Circle of Protection Red in play, you'll annoy the hell out your opponent.  Redirecting damage from your creatures to yourself might not always be a good trade-off unless you can easily prevent damage or replenish your lives.  So it follows that White decks will obviously be able to make the best use out of this artifact.
Watch the Jade Monolith in Play
Here, I use the Jade Monolith + COP Red combo to completely dominate a red player.
Final Thoughts
Personally, I would only use this card in my White decks.  You might also want to include some Circles of Protection of all 5 colors on your sideboards since their combined synergies can offer the ultimate protection for you AND your creatures.  To learn more, just follow the button below and you'll be taken to Amazon.com