Gaea's Liege: A Creature that Transforms When Attacking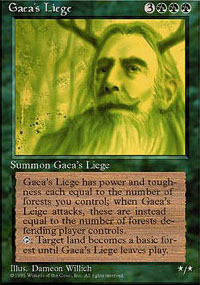 Gaea's Liege has its power and toughness equal to the # of forests you control, but when it attacks, its power and toughness equals the # of forests your opponent controls.  So if your opponent doesn't have any forests, attacking with Gaea's Liege = suicide.  However, since it also has the ability to change a basic land to a forest, Gaea's Liege still has its uses if your opponent isn't playing green.
(Think of it as having its P/T equal to the # of forests in whichever battlefield it's in – this is why I think of it as one of the most treehugging MTG Cards.)
So you might think this card shines if your opponent is also playing green, right?  But keep in mind its ability to morph their lands into forests is also an excellent asset especially if they're not playing green.  In the latter case, it's a good idea to keep Gaea's Liege around to defend against other land creature attacks and tapping it at the end of your opponent's turn to change one of his/her lands to a forest.  The only major drawback with this card is the high casting cost; however, if you've got Wild Growths and mana Elves like Llanowars, you may be able to cast this earlier in the game and cripple the few lands your opponent has by turning them into forests!
Watch Gaea's Liege in Action!
Watch carefully for the change in power and toughness as I attack with Gaea's Liege.  Since my opponent was playing a pure green deck, I didn't need to change any of her lands to Forests.
The Verdict?
It's a bit expensive to cast, but it's definitely a viable card if you've got alternative sources of mana to get this out before your 6th turn.  And even if in the worst case you needed to plop down 6 forests to cast this, at least you now have a 6/6 creature on your hands.  Interested in this card?  Please click through to Amazon.com by following the button below!