Languish MTG Card: Gives everyone -4/-4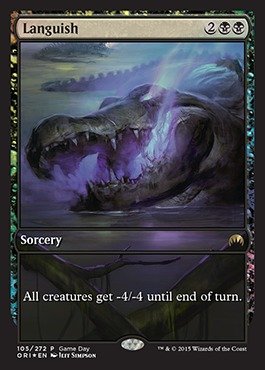 The Languish MTG card is a Black Sorcery that gives all creatures -4/-4 until end of turn.  This will instantly kill a bunch of weaker creatures that don't have protection against black which makes it great when playing against Weenie decks.
Watch the Languish MTG card in Action
Final Thoughts
This is one of the few cards out there that can actually kill a monstrous Fleecemane Lion which is indestructible and hexproof since it'll bring the lion to 0/0 and doesn't specifically target it.  It's also fairly convenient for killing other smaller indestructible creatures as well.  To learn more, please follow the button below and you'll be at Amazon.com!