Dig Through Time: Don't Predict the Future; Create it Instead!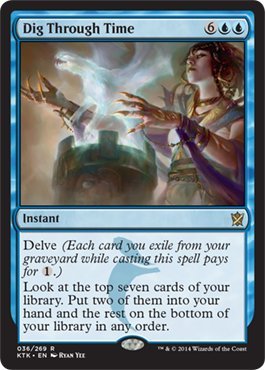 Dig Through Time is a Blue Instant that allows you to look at the top 7 cards of your library and take 2 of them into your hand.  The other 5 can be put back in any order you like.  The casting cost of this spell is quite steep (6 colorless + 2 Blue) but you can reduce the casting cost by 1 colorless mana for every card you exile from your graveyard (an ability known as "Delve".)  If you exile a maximum of 6 cards, your casting cost becomes only 2 Blue.
Watch Dig Through Time in Action
Although I still managed to win this game, please don't be like me and put Snapcaster Mage and Dig Through Time in the same deck; once you've exiled a card, you won't be able to cast it again using the Snapcaster Mage.

Final Thoughts
This card is best for decks that rely a ton on Instants and Sorceries rather than Creatures, particularly larger ones.  Multicolored decks that rely on Fetch Lands are also a good candidate for populating your graveyard so you can reduce the casting cost of this mighty spell.  If you think Dig Through Time is an excellent fit for your deck, please check it out at Amazon.com by following the button below!