Polluted Delta: I see either an Island or a Swamp in the making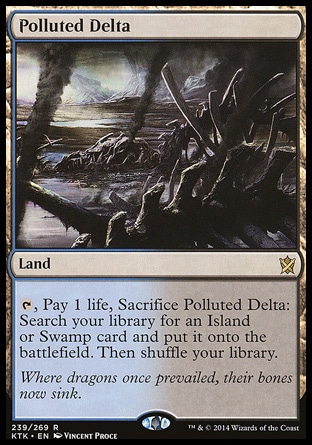 Polluted Delta is a Fetch Land which can be used to retrieve any Swamp or Island from your library and put it directly into play (by sacrificing it and paying 1 life.)  Keep in mind this ability can be played to retrieve any land that counts as either a Swamp or Island, not just those basic lands.  It's especially useful for fetching Dual Lands in decks that use 3 or more colors.  For example, suppose you're in need of Green mana and have a Tropical Island somewhere in your deck and a Polluted Delta in your hand.  You can still retrieve the Tropical Island since it counts as an Island.
Watch Polluted Delta in Action
Final Thoughts
Fetch lands like Polluted Delta can be useful in dual colored decks but become increasing important once the # of colors in your deck is 3 or more since they can help retrieve other dual lands from your library.  If this card is a great fit for your deck, I urge you to check it out on Amazon.com by following the button below!