Abbot of Keral Keep: Peek into the Future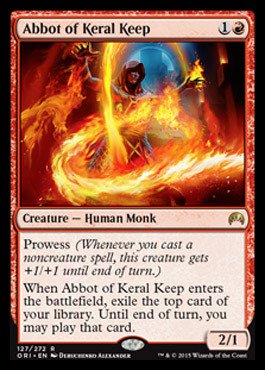 Abbot of Keral Keep is a Red Creature with Prowess (which gives the creature +1/+1 until end of turn each time you cast a noncreature spell.)  Another feature is that whenever it comes into play, you must exile the top card of your library but you may play that card until the end of your turn.
Watch Abbot of Keral Keep in Action
Example Combo
You'll need the following cards:
Abbot of Keral Keep (Red)
As you may know, Enduring Renewal will keep your creatures from going to the graveyard when they die and instead will send them back to your hand.  The catch is, if you draw a new creature, then it goes straight into your graveyard.  The Abbot's special ability will grant us a loophole to skirt this restriction and still bring new creatures from our library into play when we have Enduring Renewal in play.
First, make sure you have an Abbot in play or in your hand and then play Enduring Renewal.  Whenever you cast the Abbot from you hand, you'll get to exile the top card from your library and have until the end of turn to play it.  If it's a creature, you can still play it, making it possible to get new creatures from your library that you won't be able to get if you were to draw them instead.  You can use your Sensei's Divining Top to rearrange the top 3 cards of your library so that a creature is on top before you cast the Abbot.
The hardest part now is to get your Abbot intentionally killed at your convenience so you can cast it again to bring a new creature from your library into play.  If your opponent is constantly pounding you with a powerful creature, you can simply kill 2 birds with 1 stone and block it with the Abbot each time.
Final Thoughts
Even if you're not using the combo with Enduring Renewal, the Abbot of Keral Keep is still a formidable creature for its meager casting cost of 2.  To learn more, please head over to Amazon.com by following the button below!