Hangarback Walker from Origins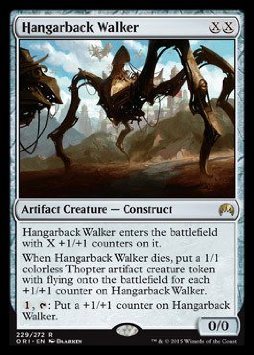 This artifact creature is a bit expensive to summon given its 2X casting cost for a power/toughness of X/X but it's great if you're anticipating a long game.  If you have at least 1 untapped land and an untapped Hangarback Walker, it's a no-brainer to activate its ability to add a +1/+1 counter at the end of your opponent's turn.  The longer this creature stays in play, the more powerful it'll likely become, and having a Hangarback Walker with a ton of counters is a great deterrence to keep your opponent from attacking while you accumulate more +1/+1 counters at the end of his/her turn due to its perpetually untapped state.
If your opponent plays one of these, do everything you can to destroy it as early as possible for not only will it get more powerful as the game progresses but you'll also need to deal with the fallout from the 1/1 flying Thopter artifacts that'll be summoned for each counter on the walker when it dies.  Not all hope is lost if you've got a massive walker on your hands; removing it from the game with, say, a Swords to Plowshares can be quite a lucrative option at this point.
Watch the Hangarback Walker in Action
Here's a game I played against the computer using Forge where I used the Hangarback Walker to break the deadlock and win the game:

Example Combo
Doubling Season works very well with Hangarback Walker since for every counter you play, you get a duplicate of that counter.  So your walker will get 2X +1/+1 counters when it comes into play and can gain 2 +1/+1 counters by spending 1 mana and tapping it.  When it dies, you get 2 artifact creatures summoned for every counter on it.  By the time you get this far, you'll have at least 4X artifact creatures (instead of X artifacts) in the end!
The Verdict?
Although this artifact creature can be added to virtually any deck of any color, it's best suited for defensive white decks that are designed to outlast the opponent.  If your deck could use one of these, please head to Amazon.com by clicking the button below!