Doubling Season: Double your Tokens AND Counters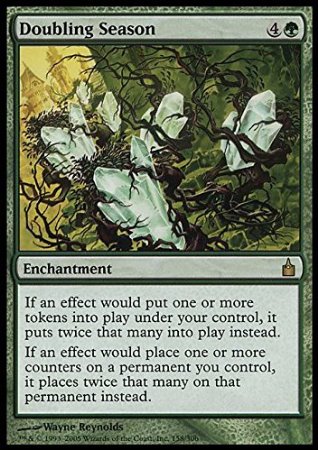 Each time you play a spell or ability that places a token into play, Doubling Season, as the name suggests, will double the number of tokens that are generated.  And every time anyone puts counters on a permanent you control, the number of new tokens placed will be doubled.
It doesn't take a genius to realize that this card is highly valuable in certain "niche" decks where tokens and/or counters play a major role.  One particular card that stands to benefit from this effect greatly is the Hangarback Walker which not only can be constantly upgraded with +1/+1 counters but also summons 1/1 Flying Artifact Creatures when it dies.  You can theoretically end up with quadruple the number of artifact creatures if you had a Doubling Season in play when you play a Hangarback Walker and it later gets killed.
Watch Doubling Season in Action!
I used the Doubling Season to double the # of counters I placed on my Hangarback Walker.  Sadly, defeated my opponent before I could get my Hangarback killed and see the even faster swarm of flying artifacts emerge.

Final Thoughts
Doubling Season costs quite a bit to cast so it's mainly useful as a longer term investment in getting more counters and tokens to help you.  If you like to go for the quick kill, this may not be as beneficial.  But if you play a fairly defensive deck rich in counters and tokens, I think this card would be an excellent fit.  If so, please take a look at it on Amazon.com by clicking the button below!