Serra's Sanctum: For your White Enchantment Decks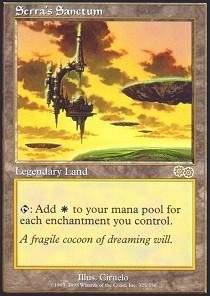 Serra's Sanctum, from the Urza's Sage set, is excellent for white decks that make heavy use of enchantments.  It adds one white mana for every enchantment under your control.  It's obvious that if you've got a ton of low casting cost enchantments in your deck, this Legendary Land will leverage your situation best.
Mana burn is also a concern if you end up adding more white mana than you can consume.  Recently in 2010, mana burn is no longer part of the official rules but keep in mind this card was around far before mana burn was removed.
Watch the Serra's Sanctum in Action
Watch as I utilized the Serra's Sanctum as I played the computer opponent in Forge.  Note that this Land is a Legend which means you cannot put more than 2 in play (I still won despite making this careless mistake but be forewarned.)
Example Combo
Get Enchanted Evening in play which makes all of your permanents count as Enchantments in addition to their native types.  Now you can add a TON of white mana to your mana pool which is excellent for casting massive spells with an "X" in the casting cost!
The Verdict?
As discussed earlier, this card is advantageous in very specialized situations (enchantment-heavy white decks, for example.)  If you have such a deck, you should definitely check it out on Amazon.com by clicking the button below.