Gaea's Cradle: Tap into your creatures' secret life force!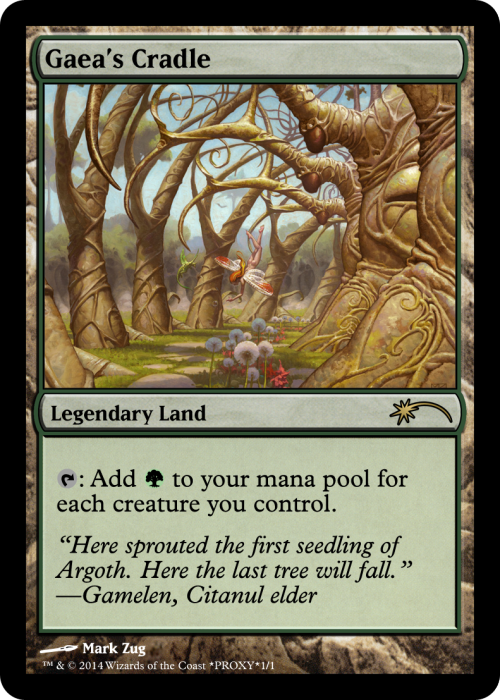 Gaea's Cradle is a Legendary Land that'll add 1 Green mana to your mana pool for each creature you control.  It's very useful for casting those green spells with a "X" in the mana cost like the Ivy Elemental which gets +1/+1 for every 1 mana you spend on X.  Or use it to cast insanely big Fireballs or Disintegrates assuming you have a lot of creatures in play and can use Red mana.
Watch Gaea's Cradle in Action
Although I didn't have any Green spells in my deck, I used Gaea's Cradle to cast a Hangarback Walker with 4 counters on it.

Final Thoughts
Since Mana Burn has been eliminated in 2010, you no longer have to worry about spending the variable amount of mana you get by tapping this land.  Although Gaea's Cradle adds green mana for each creature you control, it can be be useful even in non-green decks especially if you spend the mana on spells with a variable casting cost (with an "X" in it.)  If you think this land is a great fit for your deck, then please click through to Amazon.com to learn more via the button below!