Howling Mine: You Must Draw an Extra Card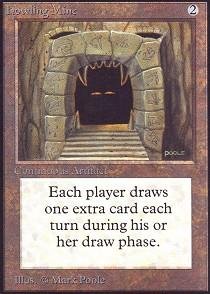 Howling Mine is a classic: one of the first cards out there that lets you draw more than 1 card per turn.  However, that ability applies to ALL players and since you'll be casting it during your main phase, your opponent will get to reap the benefits first.  However, drawling cards too quickly also has its drawback as well since you might not be able to play them all at once and have to end up discarding cards.  If you want to include this in your Green decks, consider adding Fastbond or Azusa: Lost but Seeking as well so you can quickly play the excess lands you draw.
See the Howling Mine + Traumatize + Haunting Echos Combo in Action!
I Milled my opponent using these three cards in this particular game.  Playing Traumatize and following it up with Haunting Echos substantially reduced the size of my opponent's library.  And with 3 Howling Mines in play, she ran out of cards in no time!

My Verdict
This card is often a double-edged sword.  Although there are often times when you've gotten impatient and wish you had this so you could draw multiple cards each turn, your opponent will also be granted this ability as well.  You may want to consider sticking it in your Sideboard in case your opponent stands to benefit more from it.  To find out more about Howling Mine, please head to Amazon.com thru the button below!