Fastbond MTG Card: Fast Track to Massive Mana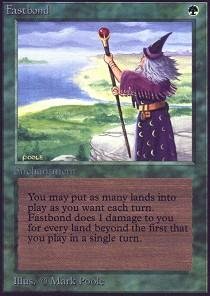 The Fastbond MTG card is a Green Enchantment that allows you to play as many lands as you wish in a single turn but it'll deal 1 point of damage to you for each land you play after the first.  If you happen to draw a hand containing Fastbond and 5-6 lands, you'll be in luck.  Also, this works quite well in combination with other cards that can help you draw extra cards each turn like Howling Mines or Thieving Magpies.  The 1 point of damage you take each time you put out extra lands is a small price to pay for being able to cast bigger creatures and spells early on.  If you're also playing White, you can play a Circle of Protection Green and pay the 1 mana to prevent the damage using the extra lands you put out.
Watch the Fastbond MTG card in action
My Verdict
I think this card fits pretty well in Blue-Green decks since blue has quite a few abilities that'll cause you to draw extra cards, and Fastbond gives you the means to play the extra lands you've drawn right away.  If you're interested in hearing more about the Fastbond MTG card, please head to Amazon.com by following the button below!