Mishra's Workshop: Power to the Artifacts!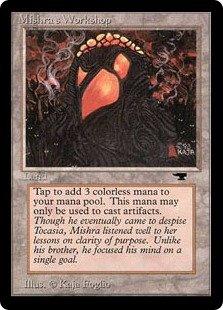 Mishra's Workshop is a land that produces 3 colorless mana (unlike most lands which only produce a single mana when tapped.)  However, the catch is that you can only spend those 3 mana on casting artifacts.  Still, this is extremely powerful early in the game if you're playing an artifact deck.  For example, imagine drawing 2 Mishra's Workshops and being able to cast Clockwork Beast, a 7/4 creature on just your 2nd turn!
Watch Mishra's Workshop in Action
Final Thoughts
The ability to gain 3 mana from a single land tap while everyone else is likely getting only 1 mana is nothing to sneeze at, to stay the least.  But you'd need to structure your deck to take full advantage of that since it can only be spent on artifacts.  Being able to play powerful artifacts on your 2nd or 3rd turns when normally you'd need to wait 4-5 turns can easily be a game changer.  To learn more about Mishra's Workshop, please follow the button below to Amazon.com.