Tropical Island MTG: Forests on an Island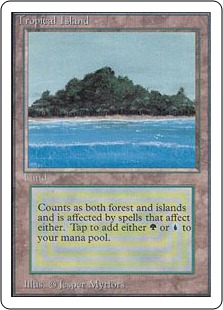 The Tropical Island MTG card is a dual land that provides either green or blue mana without any strings attached, unlike pain lands or taplands.  It also counts as both an island and a forest.  If you're playing a deck with Blue and Green spells, you'll definitely want 4 of these to flexibly provide you with both types of mana.
Watch the Tropical Island MTG Card in Action
The Verdict?
Try to get your hands on 4 of these if you're play a blue-green deck!  If 4 is not enough or Tropical Island is not allowed, then you can try Yavimaya Coast (deals 1 damage each time it's tapped for blue/green mana) or Breeding Pool (comes into play tapped unless you pay 2 life.)  If you believe the Tropical Island MTG card is an excellent fit for your deck, then please follow the button below to Amaozn.com!