Badlands MTG Card: A Swamp and Mountain in One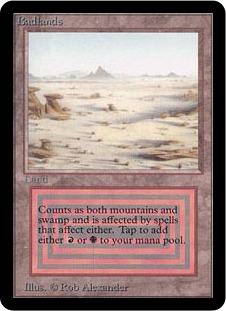 One of the biggest frustrations of playing a multicolored deck is not having the right mana for the right spells, especially in your initial hand.  To mitigate yourself against such a quagmire, you're gonna want some dual lands in your deck.  If the colors of your deck are Black and Red, then the Badlands MTG card makes a perfect fit!  This land works just like any of your basic lands except that you can tap it for either Black or Red mana at your will.  There are no additional costs or hurdles to tapping into this flexible source of mana, unlike more modern versions of dual lands that either come into play tapped or require you to pay a life or two for mana.
Be mindful, though, that this land counts as both a Mountain and a Swamp which means abilities that target either basic land types can be used on this land.  While you can take advantage of this quirk with spells like Corrupt (drains an amount of life from target equal to the # of swamps you control), you'll probably find your opponents more than willing to target your Badlands with spells that specifically destroy mountains or swamps, like Peak Eruption.
Watch the Badlands MTG Card in Action!
The Verdict?
As long as the Format or Tournament allows it, you definitely need this land in your Black-Red decks for it to perform optimally and stay competitive.  4 of these could mean the difference between being mana screwed and getting an early start regardless of the color of spells you've been dealt with in your initial hand.  Take a look at it on Amazon.com by clicking the button below if you're interested!