Cryptic Command: 4 Moves of which you may pick 2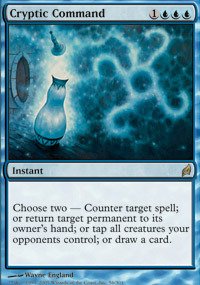 Cryptic Command is a Blue Instant that allows you to pick from 2 of the following 4 effects:
Counter target spell
Return target permanent to owner's hand
Tap all of your opponent's creatures
Draw a card
Of these 4, I usually like to tap all of my opponent's creatures since it leaves them vulnerable when I attack them.  It's clearly the most powerful of the bunch.
Watch Cryptic Command in Action
Example Combo
You'll also need Eternal Witness which is a Green card.  Every time you use Cryptic Command, select one of the effects to be "return target permanent to its owner's hand" and pick your Eternal Witness.  You'll be able to reuse your Cryptic Command indefinitely this way.  Instead of Eternal Witness, you can also perform this combo with a Den Protector (also a Green card) but it's not as mana efficient since you have to turn the Den Protector face up before you can recover your Cryptic Command.  Since Green tends to have a ton of powerful creatures, I'd usually pick tapping all enemy creatures as the 2nd effect so I can go in for a clean shot.
Final Thoughts
I'd mainly include this card in my deck with the intention of using it to tap all of my enemy's creatures.  Being able to counter a spell, return a permanent, or draw a card is an added bonus on top of that.  If you think Cryptic Command is a great fit for your deck, please check it out on Amazon.com by following the button below!