Plateau MTG Card: Mountains on a Plain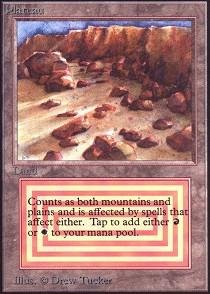 Got a Red and White deck?  Got a ton of Mountains but no red spells?  Good news: we've found a range of mountains that are flat on top and we call this a Plateau!  Essentially, it's a Plains and Mountains in one.  The Plateau MTG card is a classic Dual Land and has no strings attached!  You don't need to suffer damage each time you tap it for mana and it comes into play untapped!
Watch the Plateau MTG Card in Play
My Final Thoughts
This card is restricted in many different MTG formats but if it's allowed, it should be your 1st choice among all dual lands producing Red and White mana.  If that's the case, then please check it out on Amazon.com by following the button below!