Forcefield MTG Artifact – Rare MTG Cards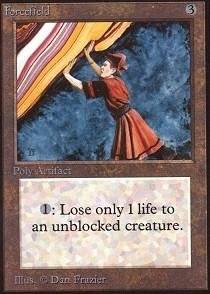 The Forcefield MTG card is a lifesaver when you're up against an opponent with very strong creatures.  You pay only 1 mana to reduce its damage to 1 point.  It reminds me of those pesky Circle of Protection enchantments that are popular in many white decks' sideboards except:
It only affects creatures attacking you, not all damage sources.
It only reduces the damage down to 1.
It's an artifact which means it can be added to virtually all decks.
It protects you against all attacking creatures regardless of color.
Watch the Forcefield MTG Card in Action
Although I didn't come up against big and nasty creatures in this match, I did manage to put the Forcefield to use to survive a few extra rounds before I launched my winning attack.  You can watch the demonstration in my Youtube video below:

Example Combo
If you have Orim's Prayer in play, you'll gain 1 life for every creature that attacks you.  And with Forcefield, you can reduce the damage any attacking creature does to you to 1.  So now, you won't be able to lose any life to attacking creatures as long as you have the mana to pay for Forcefield's ability.
Want this Card?
If you find your deck vulnerable against massive creatures that your opponent summons later in the game, then you'd wish you had the Forcefield MTG card.  Please click the button below to find it on Amazon.com!