Rishadan Port Legacy Land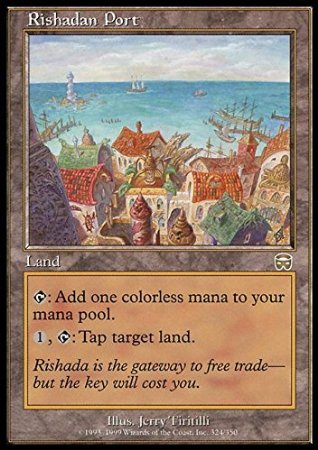 Rishadan Port can do 2 things when tapped:
Add one colorless mana.
Tap any land for the cost of 1 mana.
While most basic lands will provide one colored mana per tap, this land only produces one colorless mana.  But it also serves a dual purpose: to deny your opponent the use of mana.  It's especially useful in a non-blue deck going up against a blue or or black deck that makes heavy use of instants.  Paranoid that your opponent might have a counterspell up his sleeve with the 2 spare untapped islands?  Tap one of his islands to be sure your plans won't be derailed!  Want to use 2 giant growths on your war elephant to make it an 8/8 trample but you're afraid he's gonna use his last 2 untapped swamps for a Terror?  Tap one of them to insure against such catastrophe!
Watch the Rishadan Port in Action on Youtube:
Example Combo
If you're playing a Blue-Green Elf deck, play Rising Waters which prevents players from untapping any lands except a single one.  You'll need Rishadan Port and some mana-producing elves, say, Llanowar Elves.  Untap your Port every turn and whenever your opponent untaps a land, use your Port to tap it back.  Pay the 1 mana using any of your mana Elves.
Where to find this card?
Please click the button below to be directed to Amazon.com!