Nether Void: Shuts Down Spellcasting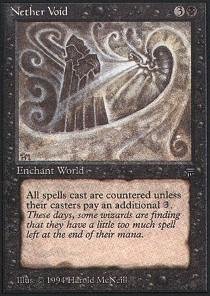 The Nether Void is an Enchantment (Enchant World) that costs 3 colorless and 1 black mana from the Legends set.  It causes all spells to be countered unless the caster pays an additional 3 colorless mana, effectively increasing the casting cost of everything by 3.  Needless to say, this enchantment affects ALL players including you so you gotta be strategic about playing this card.
Ideally, you'd want to play this if you find yourself in the lead early on in the game or if you're depending more on the creatures and permanents you've already played rather than the spells in your hand to win the game.  With this, you can make sure a mana-screwed opponent will never have a chance to turn the tides around.  Assuming you're both equally matched, you'd have to be a little lucky and get a little farther ahead than your opponent for this card to be effective but once you're ahead, you use it to leverage that tiny advantage by hampering everyone's spellcasting.
Watch the Nether Void in Action
Here's a game where I decided to play the Nether Void when I found myself having a land/mana advantage over my opponent.  Although it caused spells to cost an additional 3 extra mana, this ended up hurting my opponent more due to her relative scarcity of land which eventually won me the game.

Want it?
You'll find the Nether Void on Amazon.com by clicking the button below!