The Abyss MTG Card: Bury a Creature Every Turn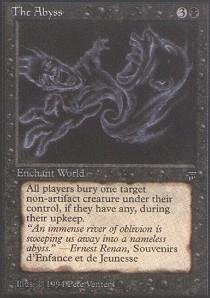 The Abyss is an Enchant World that forces every player to bury one non-artifact creature every single upkeep if they have one.  Players that rely on a few large and persistent creatures like, say, Force of Natures or Scaled Wurms will be most negatively impacted.  Decks that can rapidly summon many token creatures or not rely on creatures to kill their opponents (like many Red burn decks) will be least affected by this.
If you're ever unfortunate to have an opponent (or idiotic ally) play this card and destroy all of your creatures, do not rush in and play the first creature you draw.  Assuming you have enough mana, wait until you have at least 2 creatures in your hand and simultaneously cast them both.  If you play creatures one by one, the Abyss MTG card will kill them all off one by one, before they have a chance to recover from Summon Sickness and get a chance to attack.  Ideally, cast a stronger creature and a weaker one then sacrifice the weaker one the next turn.
Watch the Abyss MTG card in Action
Example Combo
The Abyss
This combo is a bit difficult to pull since it requires 3 colors: Blue, Black, and either Green or White.  Have both The Abyss and Privileged Position in play.  Use Donate to send the Abyss to your opponent.  Privileged Position stops any of your opponent's permanents from affecting your permanents so you no longer would need to sacrifice a creature to The Abyss but your opponents will still have to.
My Thoughts
Be extra careful before playing this card as it could end up negatively affecting you (or your allies) even more than your enemies.  However, if having a creature killed off every turn won't negatively impact you very much, then go ahead and add it to your black decks.  In that case, please check it out on Amazon.com by clicking the button below!