Wild Slash: Ferocious Version of Shock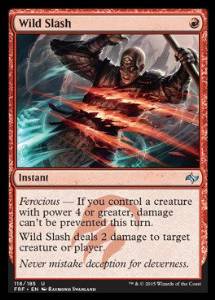 Wild Slash is pretty much like Shock except with a Ferocious clause: if you have a creature with a power of 4+, then the 2 damage that is dealt to target creature or player cannot be prevented.
Watch Wild Slash in Action
Final Thoughts
While I still prefer its Common cousin, the Lightning Bolt, Wild Slash does have its place in a hardcore Red burn deck.  First, it only costs a single mana and makes for a cheap way to activate the Prowess effect on your creatures like Monastery Swiftspear and Abbot of Keral Keep.  Second, you may already have used up 4 slots for Lightning Bolt or Shock and need another similar burn spell.  Third, it's an extra ace up your sleeves when facing a White deck that's keen on preventing damage.
To learn more about this card, please follow the button below to Amazon.com!