Crux of Fate: Discrimination against Dragons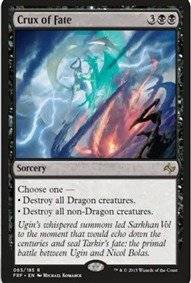 Crux of Fate is a Black Sorcery spell that lets you either destroy all Dragons or all non-Dragon creatures.  Unlike Wrath of God which destroys all creatures, this spell will discriminate against creatures to destroy as long as they're dragons.
Watch Crux of Fate in Action
Final Thoughts
It's obvious that this card would of great benefit to you if the vast majority of creatures in your deck are dragons.  Unfortunately, there are very few dragons that are exclusively Black so most likely you'll be using this in a Black-Red deck.  On the other hand, adding this to your sideboard would not be a bad idea especially if you happen to be playing against an opponent with a deck filled with dragons.  To learn more about Crux of Fate, please follow over to Amazon.com by clicking the button below!