Outpost Siege: Tap into the power of Khans or Dragons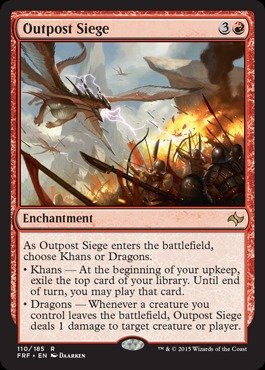 Outpost Siege is a Red Enchantment that can perform multiple roles and requires you to choose the role as soon as it comes into play.
Khans: Exile the top card of your library during your upkeep.  You can play that card until the end of your turn otherwise it'll forever be exiled.
Dragons: Every time a creature you control dies or gets exiled, Outpost Siege deals 1 damage to any target creature or player.
Watch Outpost Siege in Action
Example Combos
Khans Combo
You'll need Enduring Renewal (White) which prevents you from drawing new creatures but sends your dying creatures back into your hand rather than the graveyard.  Sensei's Divining Top (Artifact) is optional but highly recommended.  With Enduring Renewal in play and Khans picked for Outpost Siege, you can circumvent Enduring Renewal's requirement of discarding a creature whenever you draw one because you'll exile the top card from your library during your upkeep.  If the card you exiled is a creature, you'll still be able to play it.
If you have Sensei's Divining Top, you'll be able to strategically rearrange the top 3 cards of your library so that you won't draw a creature during your draw phase and have to discard it.  If all 3 cards on top of your library are creatures, then you'll need to tap Sensei's Top right before your draw phase and put it back on top of your library so you'll draw that instead of a creature.
Dragons Combo
Dragons is a good choice to pick if you're able to pump out a ton of token creatures.  When these creatures die, you can deal 1 damage to any player or creature.  Goblin Rabblemaster is a great choice since it's also Red and can put out a new Goblin token every single turn.
Final Thoughts
Khans is a good choice for anyone who wants an alternative to a Howling Mine without giving your opponent the benefit of drawing extra cards.  Dragons is great for squeezing out extra damage from your hordes of small creatures especially in Red Weenie and Token decks.  If you think Outpost Siege is a great fit for your deck, then come check it out on Amazon.com!