Sensei's Divining Top: Control the Fate of your Library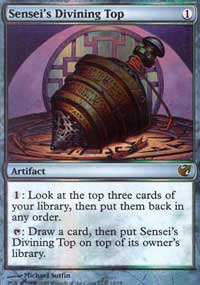 Sensei's Divining Top is an Artifact that lets you look at the top 3 cards of your library and put them back in any order for just 1 mana.  You can also draw the top card and put the Divining Top on top of your library by tapping it.  There are many great card combos that can use this card but I personally like to include it in decks where you're able to draw extra cards.  It makes an excellent companion to a Howling Mine or Thieving Magpie.  It can also help you prevent valuable non-creature cards from being manifested if you have, say, a Whispered Elemental in play.
Watch Sensei's Divining Top in Action
Final Thoughts
Most decks will stand to benefit from this card but it really shines if you anticipate drawing extra cards outside of your draw step.  To learn more about Sensei's Divining Top, please check it out at Amazon.com by following the button below!