Invoke Prejudice Against Other Colors of Creatures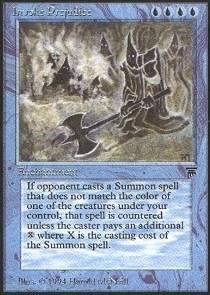 Invoke Prejudice is a Blue Enchantment that increases the casting cost of your opponents' creature spells by X if its color doesn't match the color of any of your creatures in play (X is the casting cost of the creature itself.)  In other words, this essentially doubles the casting cost of your opponents' creature spells if they don't match the colors of the creatures you control.
Since you may not know what color your opponent is playing before hand, I highly recommend sticking this card in your sideboard.  Single color blue decks will likely derive the most benefit from this card and even if your opponent is playing blue, Invoke Prejudice will still kick in if you don't play any creatures at all!  (Besides, the 4 blue mana required to cast this may cause some difficulties in multi-colored decks.)
Watch Invoke Prejudice in Action
Interested?  Click below to learn more!
You can learn more about this card on Amazon.com by clicking the button below!