Chains of Mephistopheles: Extra Draws = Discard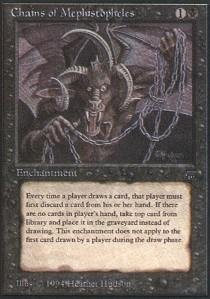 Chains of Mephistopheles will force all players to discard a card for each card drawn beyond the 1 card you're normally supposed to draw during your draw phase.  For example, all cards with the ability "draw a card" will trigger this effect and force the player to discard a card of his/her choice for each card drawn.  Keep in mind this ability affects YOU as well so you need to be sure this will affect your opponent more adversely than yourself before playing it.
Watch Chains of Mephistopheles in Action
I played a few Howling Mines in addition to Chains of Mephistopheles which forced everyone to not only draw extra cards but also discard cards each turn.  With a ton of cards in her graveyard, I then played a Haunting Echoes which exiled even more cards out of her graveyard.  (Haunting echos will exile any card other than basic lands in the target player's library if there's the same card in his/her graveyard.)    It was a close game but my opponent eventually ran out of cards and lost.

The Verdict?
Taking full advantage of the Chains of Mephistopheles without doing a ton of harm to yourself can be tricky but there are certain obvious scenarios where it can be quite advantageous to you.  For example, if your opponent is playing a blue deck and depends on using the ability of drawing extra cards.  In most cases, you'd want this card in your sideboard.
If this card is a good fit for your playstyle or your existing decks, then please head to Amazon.com by clicking the button below where you can learn more!