Lion's Eye Diamond: Poor Man's Black Lotus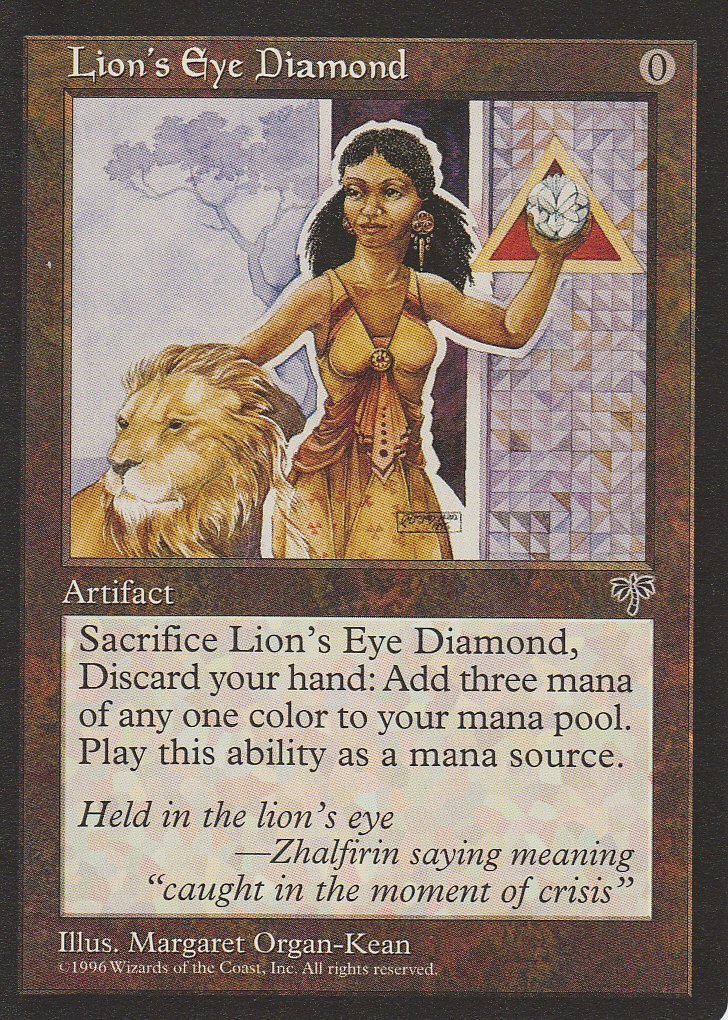 The Lion's Eye Diamond works almost exactly like a Black Lotus except with one caveat: you must discard your entire hand in addition to sacrificing the diamond in order to get your 3 mana of any one color.  The black lotus is predominantly useful very early in the game when mana is scarce; being able to cough up 3 mana of any color when your opponents only have 1 or 2 lands in play is tremendously powerful in getting you a head start.  The same cannot be said of the Lion's Eye Diamond: discarding your entire hand pretty much defeats the purpose of getting 3 quick mana of any color.
Also, having to discard your hand means you will not be able to play any spells afterwards.  You will not be able to depend on Lion's Eye Diamond to cast any spells in your hand so those 3 mana can only be used to activate abilities on existing creatures, such as pumping up a Frozen Shade 3 times to give it +3/+3.  But in some circumstances, you might actually want to discard your entire hand, particularly if you have various Permanents in play with Reanimation abilities – you'd want to discard your creatures that cost too much to cast and rely on Reanimation to bring them into play rather than paying the mana cost upfront.
Video Example of Lion's Eye Diamond
In this particular game, the last card left in my hand was the Lion's Eye Diamond so I played and sacrificed it, "discarded" my empty hand, then used the 3 mana to pump my Molten Ravager with +3/+0 until the end of the turn.
Example Combo
Tamiyo, the Moon Sage is a Blue Planeswalker with an ability that costs 8 loyalty counters that allows you to return any card that gets sent to your graveyard to your hand.  If that ability is activated, not only will you not lose your hand every time Lion's Eye Diamond is used to add 3 mana but the diamond will also return back into your hand.  You'll be able to gain infinite mana this way!
My Thoughts
In most cases, you'd want a Black Lotus instead of this.  But in some Reanimation decks, the Lion's Eye Diamond will have much greater utility than a Black Lotus (not to mention at a fraction of its monetary cost.)  If that's the case, I urge you to check it out on Amazon.com by following the button below.