Ob Nixilis Reignited: The Evils of Drawing Extra Cards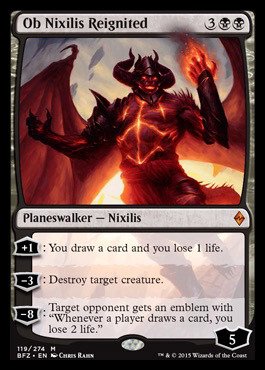 Ob Nixilis Reignited is a Black Planeswalker that begins with 5 Loyalty.  He has the following abilities:
+1 Loyalty: Draw a card and lose 1 life.
-3: Destroy target creature
-8: Choose an opponent.  Whenever a player draws a card, that opponent loses 2 life from now on.
Watch Ob Nixilis Reignited in Action
Example Combo
If you manage to activate the last ability, then any card which causes someone to draw extra cards will do a ton of damage.  Howling Mine is the perfect companion to this Planeswalker as it forces both you and your opponent to draw extra cards.  That player you targeted will receive at least 4 points of damage during every player's turn!  Casting Sign in Blood on your opponent will also inflict 6 damage due to that ability.
Final Thoughts
This guy is a bit risky to play since it costs life to build loyalty.  But once you've managed to play the last ability, your opponent will be fighting an uphill battle until the end of the game.  To learn more, please come to Amazon.com by following the button below!