Palinchron: This Dragon's merely an Illusion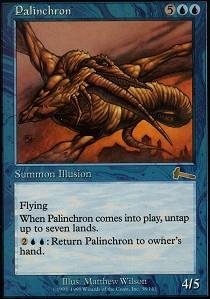 Palinchron is a 4/5 Blue flying creature with 2 special abilities.  First, it allows you to untap up to 7 lands whenever it comes into play.  Second, you can return it to your hand by paying 2 colorless and 2 blue mana.  Now, since the vast majority of lands only produce a single mana whenever tapped and this creature costs 7 mana to cast, your net gain in mana potential after casting it is 0 by default.  However, if you got a Mana Flare in play, you'll be able to put an unlimited amount of mana in your mana pool using Palinchron.
How to Get Unlimited Mana using the Palinchron + Mana Flare Combo
Assuming you have a Mana Flare in play, Palinchron in your hand, and 7+ of the right lands in play to cast Palinchron, do the following:
Tap 7 lands for mana including at least 2 blue mana sources.  You'll have added 14 mana in your mana pool including 4 blue mana.
Use this mana to cast Palinchron.  Now you have 7 mana in your mana pool.
Untap all 7 lands.
Use 4 of the 7 remaining mana including the 2 remaining blue mana to return Palinchron to your hand.
You now have a net gain of 3 mana in your mana pool.  Now go back to Step 1 again and repeat this process.
If you have 1+ red mana available and a disintegrate, fireball, lava burst, or similar card in your hand, you'll be able to inflict an infinite amount of damage to your opponent and win the game instantly using this combo!
Watch the Palinchron in Action
Final Thoughts
The casting cost of 7 might seem a bit on the high side for a 4/5 flying creature.  But even if you don't have a Mana Flare in play, the ability to untap your lands after casting this creature can prove to be valuable when you're in a pinch for mana later in the game.  If you're interested in learning more, please head to Amazon.com via the button below!